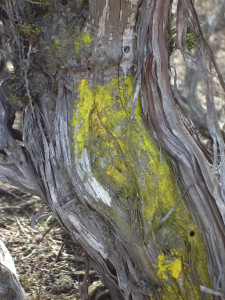 Most of the images I use on this website are my own.  The two images in my header are examples.  The nature image (original uncropped version to the left) is from a time when I was in a period of deep reflection.  I was dealing with a lot of pain and a sense of loss – the dream had not worked out as planned and my body was consuming my energy – the bushes that seemed dead in their dryness and grayness captured those feelings for me.
At the same time, there was this incredible vibrant green moss – a sharp contrast.  In the moment of taking the photograph I resonated with that contrast.  I wanted to shift how I was feeling.  As I look at the image now I see my pain and feeling lost.  I also see the energy of growth and potential – discovering who I was and what I was meant to do in the world.  The image gave me a way to honour both.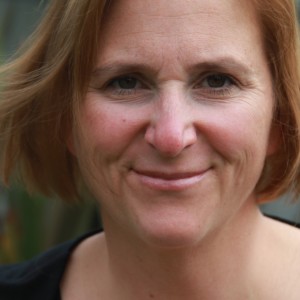 Fast forward a few years, one spinal fusion surgery later, a new career, and my "head shot" was taken in the back yard.  I was using a tripod, a remote control for my camera, and I had music playing.  I was literally swaying and dancing in different locations in the backyard, taking photos as I went.  The smile is genuine.  I was feeling happy. (One of the many shots from that day is on the right.)  While it felt rather vulnerable to be doing this craziness in the backyard  – what if someone should see me?? – I loved the sense of me capturing me with renewed energy and a new sense of purpose.
Did I have all of this understanding of what these photographs mean to me in the moments they were taken?  No, but I do believe there was some inner knowing I was tapping into in those moments such as the resonance with the contrast of the dryness and the vibrancy in my nature image.  What I am appreciating is that I took the photographs in the first place.  The ongoing gift is that I can see more and new meanings in the images as time passes, connecting with the evolution of my story.
When I look at those photographs now, they represent the walk I have been taking with my life.
The Invitation…
Take photographs.  They don't have to be of you, but they can be.  They don't have to be of other people, but they can be.  Be in nature.  Be in a city.  Don't worry about the 'rule of thirds' and composition or having anything in focus.  In other words this is not about taking 'perfect' pictures, just take pictures.  And then give yourself a little time and space to really look at them and ask about you, the photographer.
What were you feeling when you took the photo?
What are you feeling now as you ponder the photo?
What are you wanting as you look at the photo?
What else are you noticing or resonating with in the photograph and in you?
Perhaps you will connect with a sense of loss, joy, anger, despair, possibility, hope, harmony – any or all of the above.  Perhaps you will connect with a sense of the passage of time and remembering. Perhaps you will connect with hurt.  Perhaps with healing.  Perhaps with creativity and inspiration.
The meaning of the image for you, as is the case for me and my images, comes later.  So the blurry image, the whonky placement, the different lighting – any and all of that might be where you see the meaning.  So I say again, it is not about taking a perfect picture, rather it is about taking pictures and then giving them some purposeful consideration.
I encourage you to be fluid with timelines.  Maybe you take the picture and look at it with consideration in a week's time, or five weeks, a year, or five years later.  (I've done all of that.)  I value that my story evolves each time I look at the photographs.
What is the story of you your photographs are telling?  What if your story of loss and grief can be found in your photographs?  
© Dr. Catherine Hajnal 2015. All rights reserved.
If this theme of grief and photography has sparked an interested, here's a few other links to get you started on your exploration….
http://blog.sevenponds.com/soulful-expressions/artist-andy-goldsworthys-brother-suffered-the-death-of-his-beloved-wife
http://blog.sevenponds.com/professional-advice/%E2%80%A8how-does-grief-affect-the-creative-process-an-interview-with-photographer-sarah-treanor-part-one
Photo Grief:  http://www.whatsyourgrief.com/resource-for-coping-with-grief/  OR http://photogrief.com/